owh..hard to believe naa..umi had fly to KL this morning..hr ahad br balek..ngee! rindu kt umi wei..takTIPU! swear..and hari2 without umi..rase mcm nothing,KOSONGand boring jiddan jiddan tahap x igt!hr nie..tido mcm x igt dunia dh..mcm xde keje laen..kalau xtido..i keep to and foe..HUHU. i'm pity to arshad..bkak je pntu rumah keta umi trsadai kt dpn tu and he says "umiBALIK"..biarpun dia pi jgk airport pg td hntar umi..haila~ mmg la umi biase balek time ni..tp kn,takkanla dia dh lupe dia pgi hntar jgk pg td..ok-ok-fine! hes just a kid and i can't blame on him..huh~


br aku mengerti perasaan org yg takde mak ; yg mak n ayah dye skali busy 24-7 smpai x sempat jmpe punn diorg..mmg sare lonely tahap tak ingat!ni kire bsyukurla umi g just 3 days..ALHAMDULILLAH..thankgodness..
waduh..bkak TV plak cite adik2ku boleh..duk cite psl ibu yaww..ni rase nk meleleh habes idung mata n mulut..hukhuk:( abi n amjad g kt rumahBARU..kitorg nie dtinggalkn cause tido..ngehehe..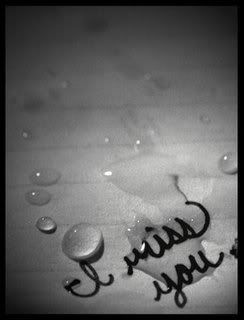 esok..nk g asrama dh..brg2 xhabis packing lg..haila~ rase mcm xnak g la plak..hmm! umi balik ptg ahad..nk ikut!! ceh,mcm bdk''..lbih drp arshad plop..ngee! biarla..aku punn anak umi jgk kn..haa xleh halang..tp takut abi mls amik je..waa..nkGIjugak..sobsob T_T
BTW,hr isnin ni my dirthday..tak kesah punn diorg nk bg hadiah ke tak..yg pnting..diorg tu still lg my friends..right??
okaylah..arshad dh merengek nk susu..i've got to go now..kn umi takde..kn kn kn~